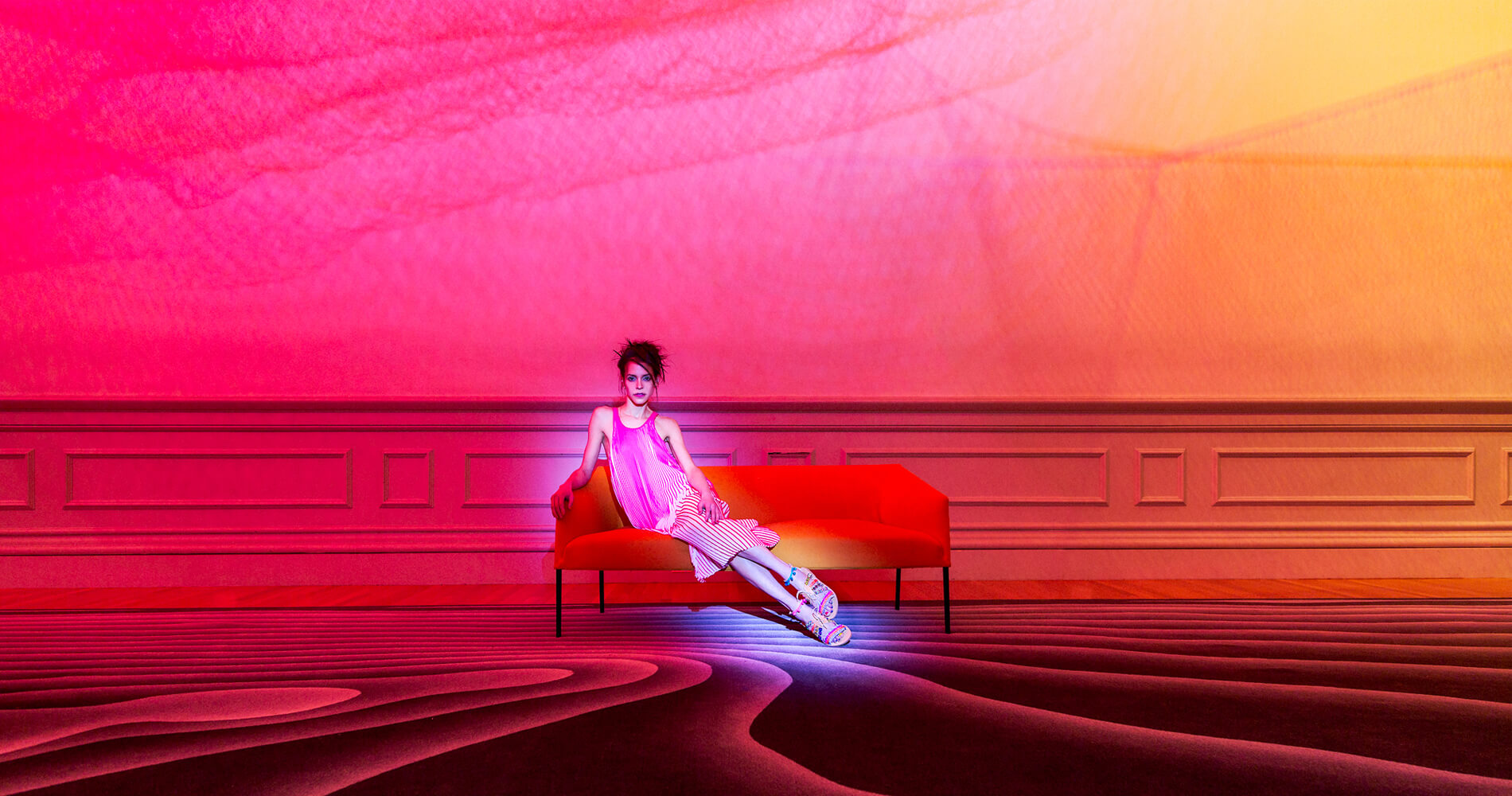 To originate your desire and move towards a state of dream manifestation is the transportive power of Wonder. This is the title of the Renwick Gallery's inaugural exhibition after a masterful two year creative restoration. A historical treasure first completed in 1858 and a precious example of Empire-style architecture, the Renwick stands as the first building in America designed specifically to be an art museum. Honoring this provenance and engaging the bones of the space, eight contemporary artists have created fantastical site-specific installations to foster a sense of awestruck calm and contemplation. My wander through Wonder was marked by three immersive pieces, each definitive of its own medium yet conveying a resounding connectedness to a universal whole, overcoming in its sensory beauty but rooted in each artist's deeper expression.
Intrinsically drawn to color I enter into the radiance of Gabriel Dawe's atmospheric haze Plexus A1. Composed of 15 colors and 60 miles of sewing thread, Dawe's chosen medium materializes and dematerializes before the eye to create a transcendental structure interlaced with references. A wave of soothing symbolism representing the miracles of nature, color and light, architecture as shelter and textiles as protective layers of clothing all appear. Also underneath is Dawe's exploration surrounding social constructs of gender, inherent during his youth in Mexico. Perhaps an interesting dialogue with the aspirational designers of Monse, who have pushed the associations of a classic men's work shirt into a realm of artful reinvention. Together offering an alternative way of moving through these societal constructs with new meaning and a fresh sense of awareness.
At the top of the Renwick's ceremonious stair Janet Echelman has reimagined the Grand Salon as a land of undulating color and ephemeral forms. Titled 1.8 in reference to the length of time in nanoseconds that the earth's day was shortened as a result of the Tohoku earthquake and tsunami which hit Japan in 2011. The forms were arrived upon from the data document sets which captured the Tsunami wave heights across the Pacific. Echelman's signature approach to sculpture combines traditional craft forms with high tech materials to create illusory aerial net-like sculptures suspended in space. As vivid oranges transition to pink, feelings of cause and effect, an interconnected world resonate. Cascaded in the delicate movement of Stella McCartney's feather light plissé with an element of the handmade Elina Linardaki woven sandals, Echelman's work is a reawakening towards the capacity one has to manifest your own medium.
Running across the floor and flowing up the walls, my last glimmering encounter is with Maya Lin's Folding the Chesapeake. The environment an ongoing subject matter in her work, here she has used satellite imagery from NASA in an expression of the Chesapeake Bay's complex system of wildlife habitats and food chains. Glass marbles form parts of a precious whole, the largest estuary in the United States. A lifelong environmental activist, Lin draws the line between beauty and meaning showing us the different forms of wonder that exist.
Janet Echelman, 1.8, Renwick Gallery of the Smithsonian American Art Museum;
Stella McCartney dress, Elina Linardaki sandal
Gabriel Dawe, Plexus A1, Renwick Gallery of the Smithsonian American Art Museum; Monse skirt & top, Castañer espadrille
Maya Lin, Folding the Chesapeake, Renwick Gallery of the Smithsonian American Art Museum; Johanna Ortiz striped skirt & top, Stuart Weitzman prism sandal
Makeup by Samantha Dametta, Hair by Cosma De Marinis, Photographs by Tylor Hóu