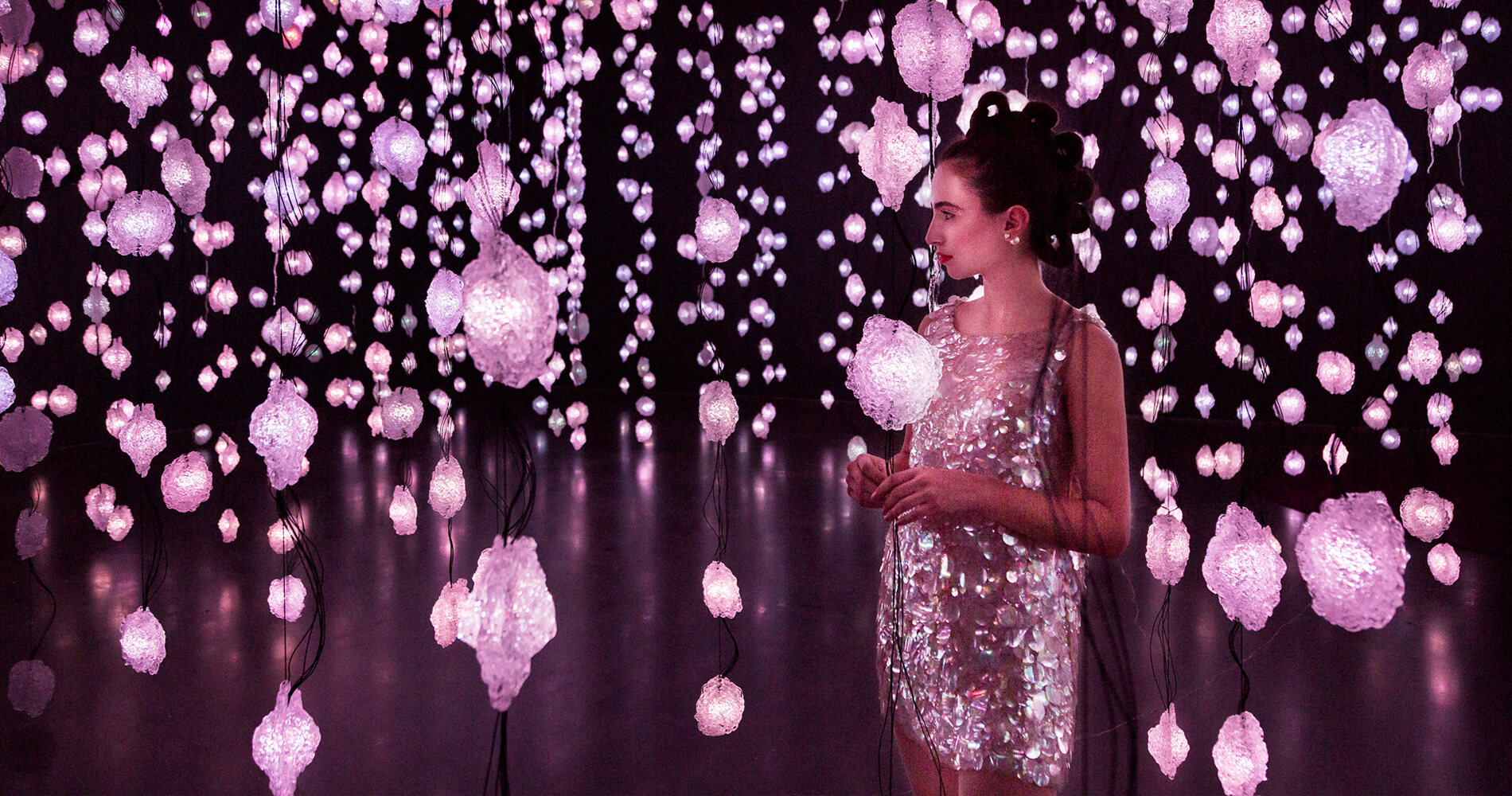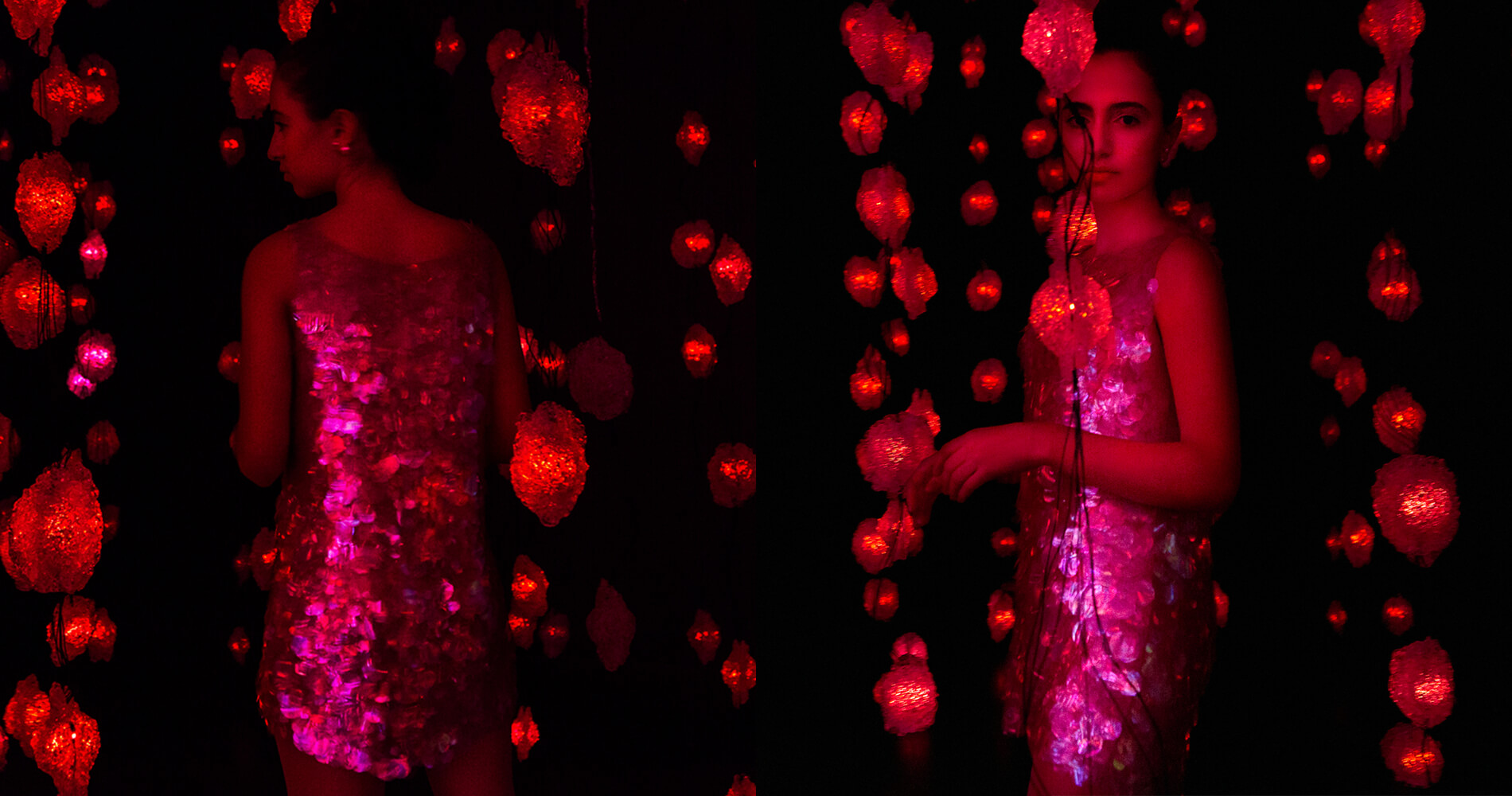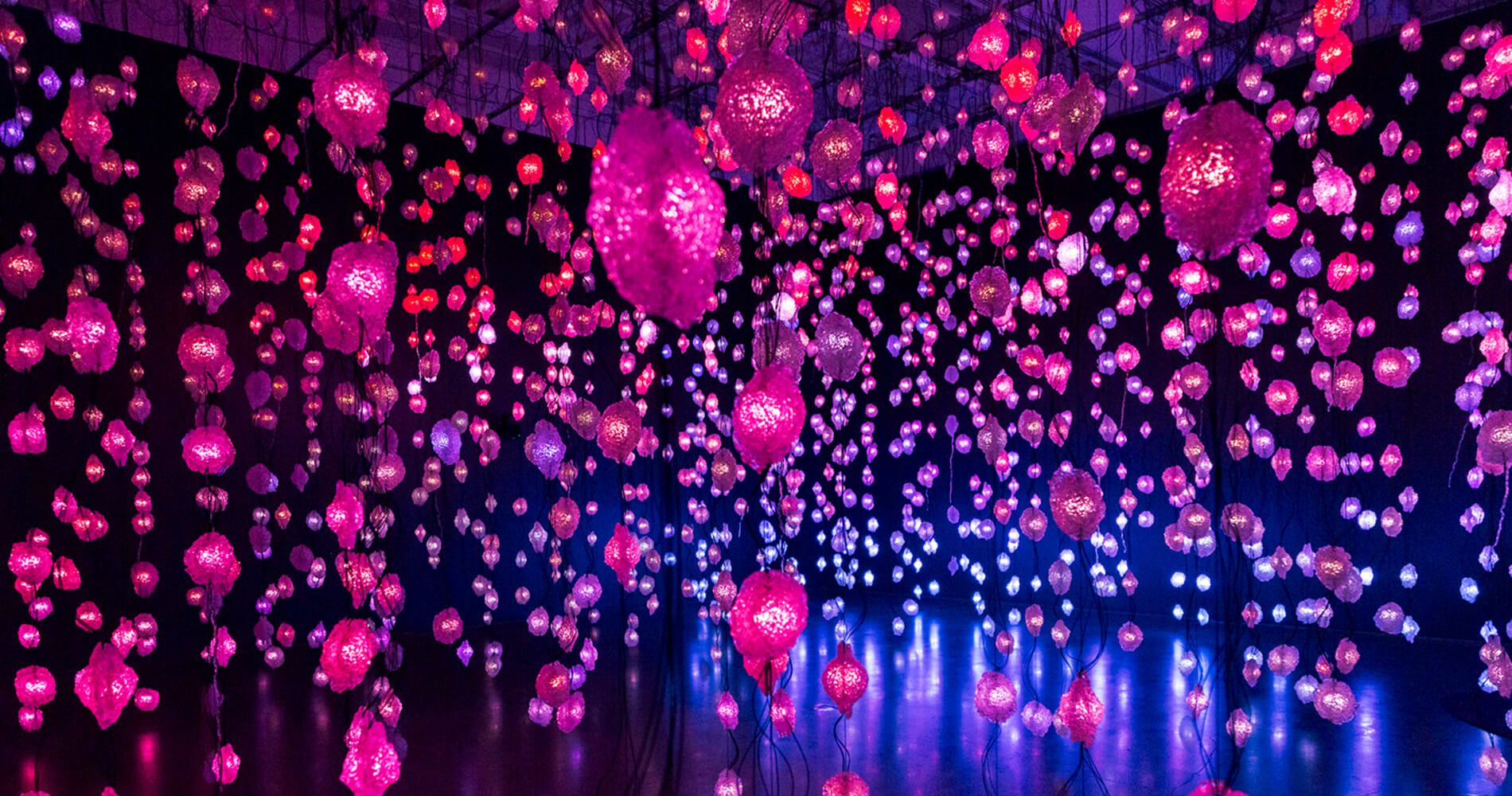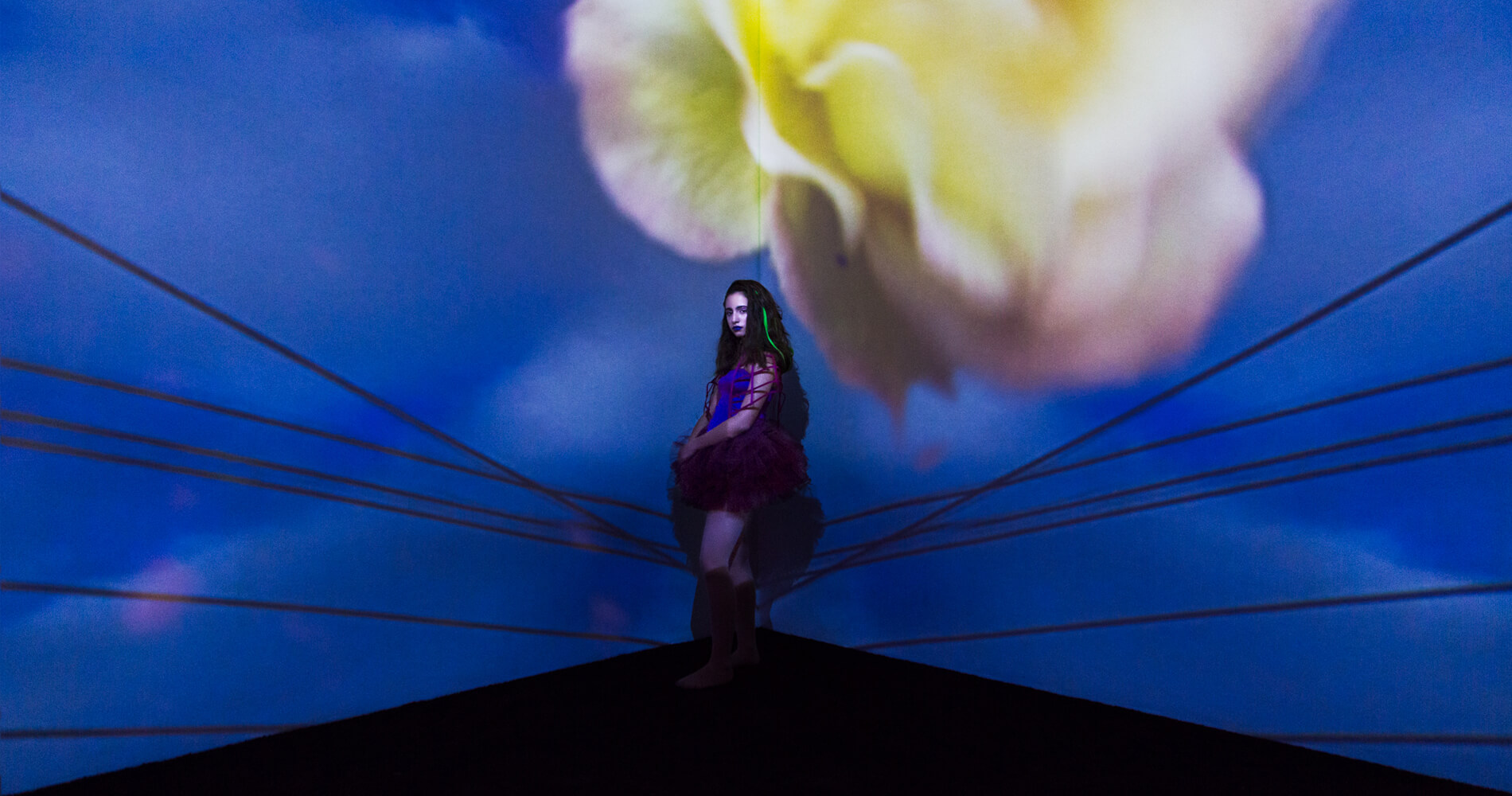 Pipilotti Rist, "Mercy Garden" and "Worry Will Vanish Horizon," 2014;
Coco wears
Bonnie Young
fuchsia tutu with leotard &
Chromat
lunar cage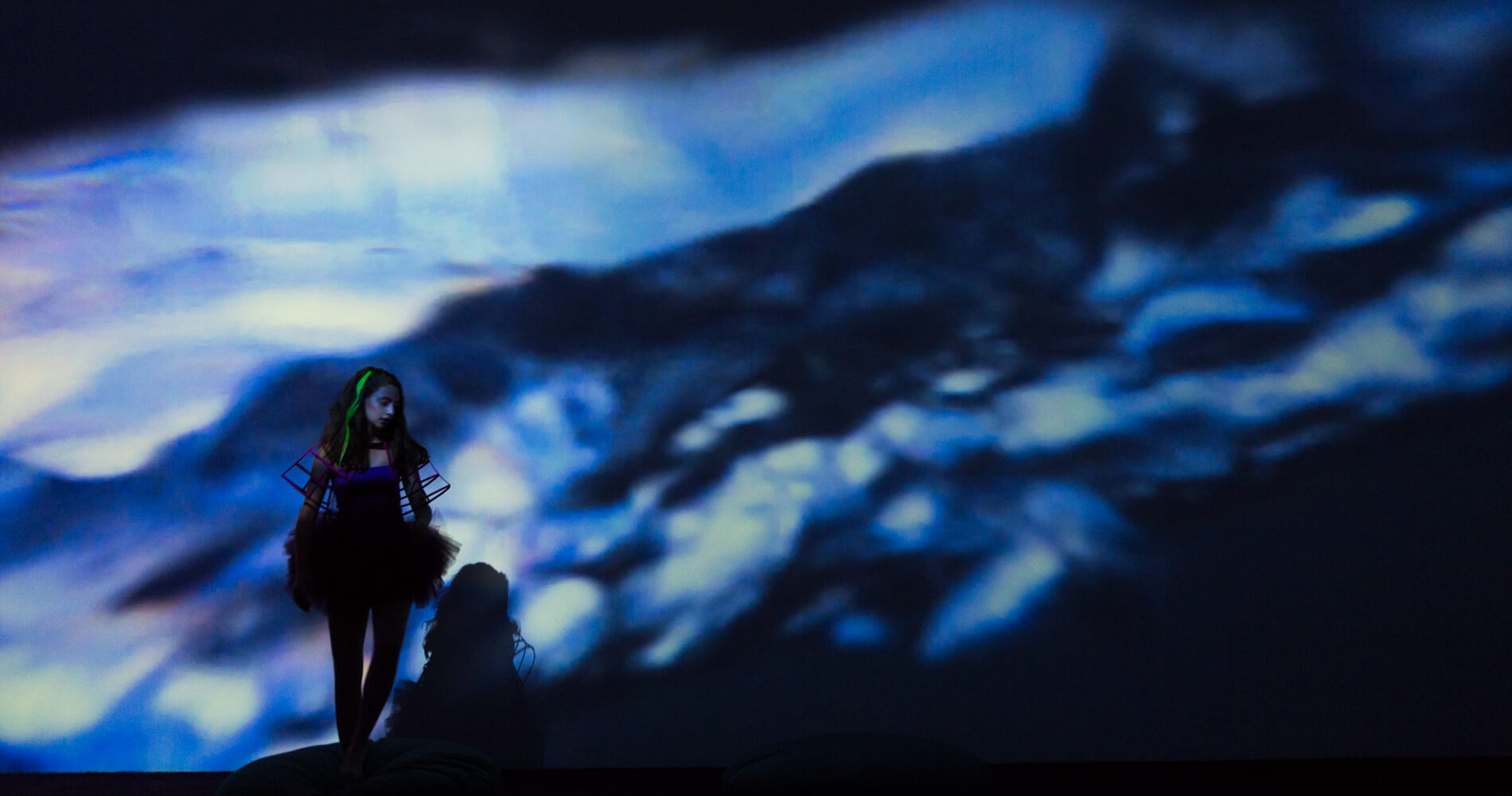 Pipilotti Rist, "Mercy Garden" and "Worry Will Vanish Horizon," 2014;
Coco wears
Bonnie Young
fuchsia tutu with leotard &
Chromat
lunar cage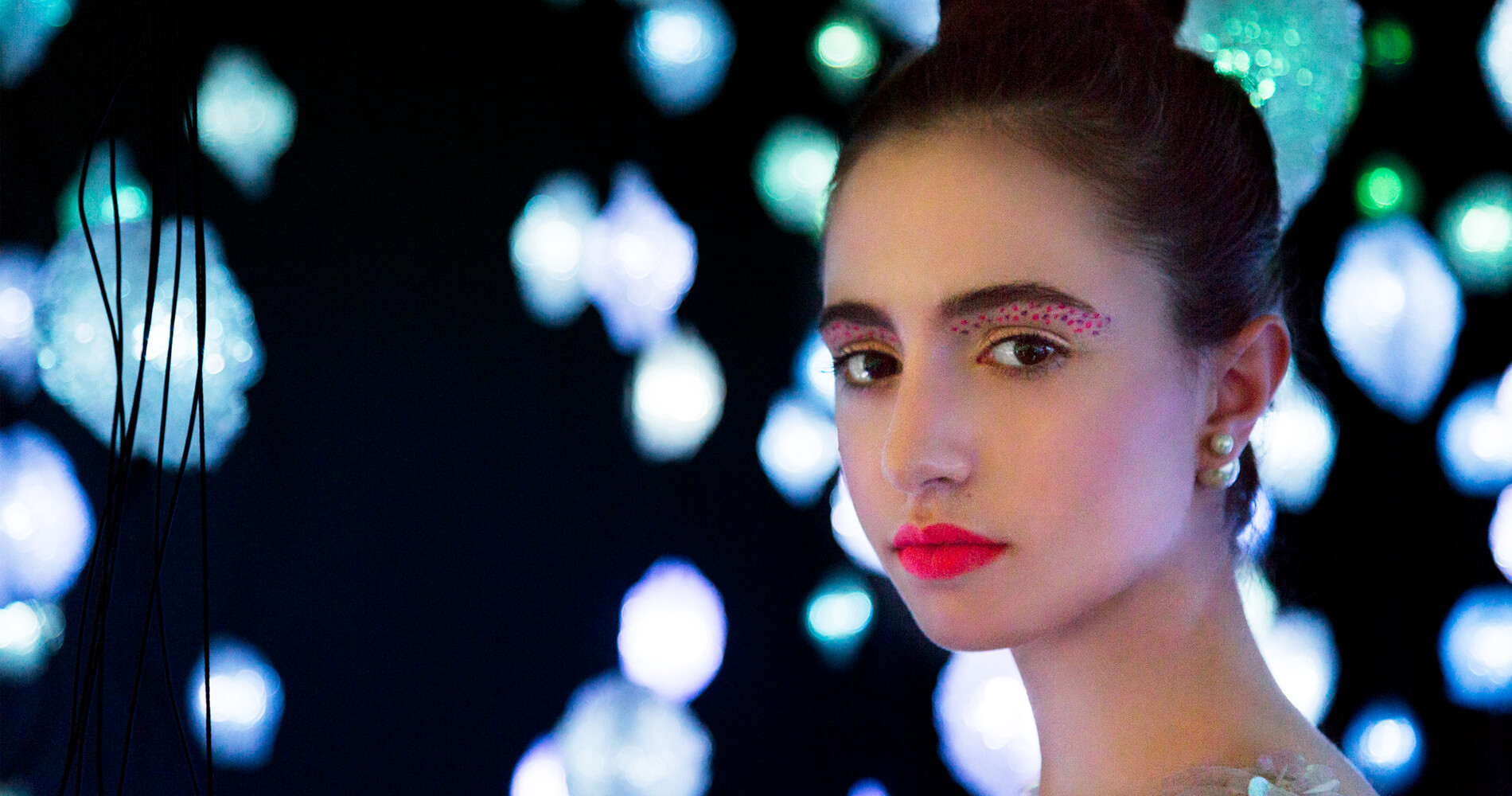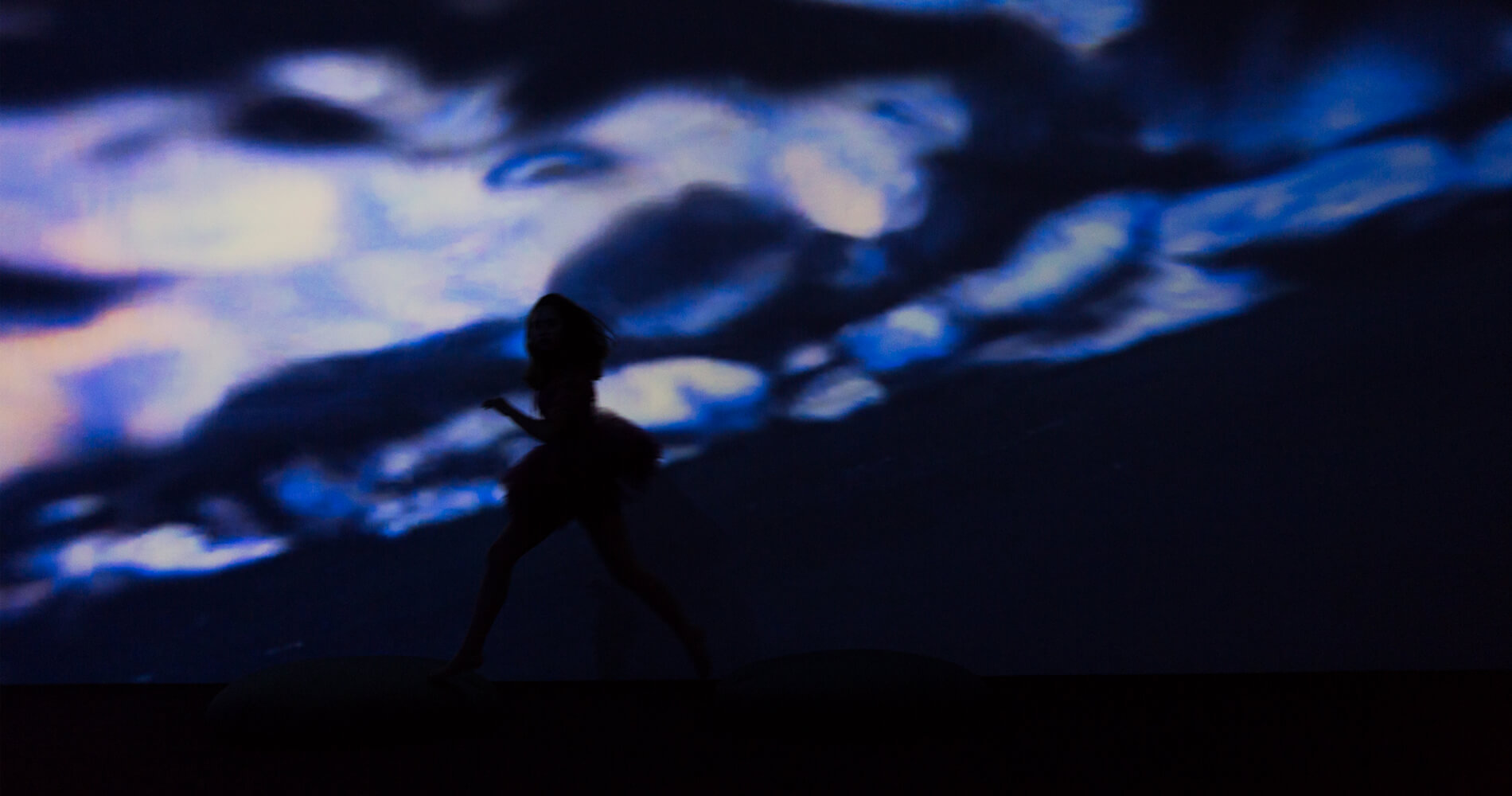 Pipilotti Rist, "Mercy Garden" and "Worry Will Vanish Horizon," 2014, New Museum
Hope can be found here, within Pipilotti Rist's Pixel Forest of soaring sensory at the New Museum, awe reigns. A playground of audio visual delights, lights, melt like a jolly rancher in your mouth, that you want to share. Nature steeped in wonderful connectedness, staccato'd with strange. Flash bursts, visions of heightened reality drop, swirl and stare. Coco Rohatyn is a twinkling constellation, comet, the perfectly real 14 year old blazing insight and encounter.
Pari Dust: Is this the first time you've seen Pipilotti Rist's work in person? What impresses you most about her Pixel Forest installation?
Coco Rohatyn: This was my first time seeing so much of Pipilotti Rist's work! My only other earlier encounters involved staring into a little hole in the floorboard of PS1, where she pleadingly sang up to me. My mom came in and played Pipilotti Rist's Ever is All Over (1997) as I watched Beyoncé smash the car in her Lemonade video. Watching an artist influence another in such a way of recreation was fascinating. Before seeing the show, my instagram feed was flooded by tons of the pixel forest photos and I was eager to walk through her wooded fantasy. Stepping into her forest of glass snowballs, I imagined myself a part of the Milky-Way. And, the disco inspired Bonnie Young dress made the experience even more dreamlike! When the fluorescent lights bounced off of the dress's mother of pearl sequins, my role as observer morphed into being part of the art.
You've grown up around modern and contemporary art, your mom, Jeanne Greenberg Rohatyn is a gallerist I greatly admire, with galleries in two neighborhood extremes, your home uptown and around the corner, Salon 94 Bowery and Freemans. If you could curate your dream exhibition who would be in it?
Well first, I would have to ask for some help from my mom, as it would be my first time curating! Having a Rick Owens's dark wood couch in front of a Mickalene Thomas rhinestoned painting would be amazing. Living with a Mickalene Thomas- I wake up to these enormous disfigured eyes, and sparkles reflecting on my walls. I love putting disparate things together- so Rick and Mickalene…?
This isn't your first time in front of the camera. How old were you when you were involved in fashion/did your first shoot?
Since birth, my mom has had Katy Grannan take holiday portraits of my siblings and me. Many of the early cards were nude, until we all (including my dad) finally rebelled! My mom's long time friend, Bonnie Young, first invited me to walk in her show at the age of nine. The first time walking her show, an older model taught me how to walk with style. Now I have my own bounce on the runway!
Of the cities you've travelled to which city suits you best, and what makes it so irresistible?
PARIS! Minutes after I first stepped into Paris, it was obvious that I was in love with the city. Living in New York, I had never been lost on little street corners, or dined at classic brasseries. Humming to myself "I love Paris" by Ella Fitzgerald, I want to be in Paris again…
With so much going on in the world, what do you think the biggest concerns are for your generation? Do you think Art has the capacity to address some of these issues?
As this is a critical moment in time, both politically and socially, it is the next generation's job to stand up for what we believe in. Standing up for women's rights has always been very important to me. Whether it's equal pay, ownership of a woman's body, or sexism, it is up to us to make a change. Art, without a doubt, has the capacity to address these issues. For example Marilyn Minter's art, in my opinion, try and celebrate women's body and empowerment of women through their bodies.
If you had the opportunity, who would you most love to meet?
If I could meet anyone, it would definitely be Gloria Steinem. Since laying hands on her book, My Life On the Road, last year, her life of traveling and interviewing women has fascinated me. Discussing what a fourteen year old girl can do during this scary time would be amazing. She has many ideas on how to effectively use our voices.
What's on the horizon for you?
First and foremost high school! I'm super excited for a new chapter, but naturally nervous about being a freshman. Since I have spent the last seven years training, figure skating and dancing-  performing is something I want to keep doing!  Acting interests me, so I would love to try out for a play or film.
"Pipilotti Rist: Pixel Forest" continues through January 15 at the New Museum. Run don't walk then sink in.
Coco Rohatyn is wearing Bonnie Young iridescent party dress within "Pixel Forest," 2016. Coco wears Bonnie Young fuchsia tutu with leotard & Chromat lunar cage for "Mercy Garden" and "Worry Will Vanish Horizon," both from 2014.
Makeup by Samantha Dametta, Hair by Cosma De Marinis, Styled by Pari Ehsan, Assisted by Mohar Chaudhuri, Photographs by Tylor Hóu