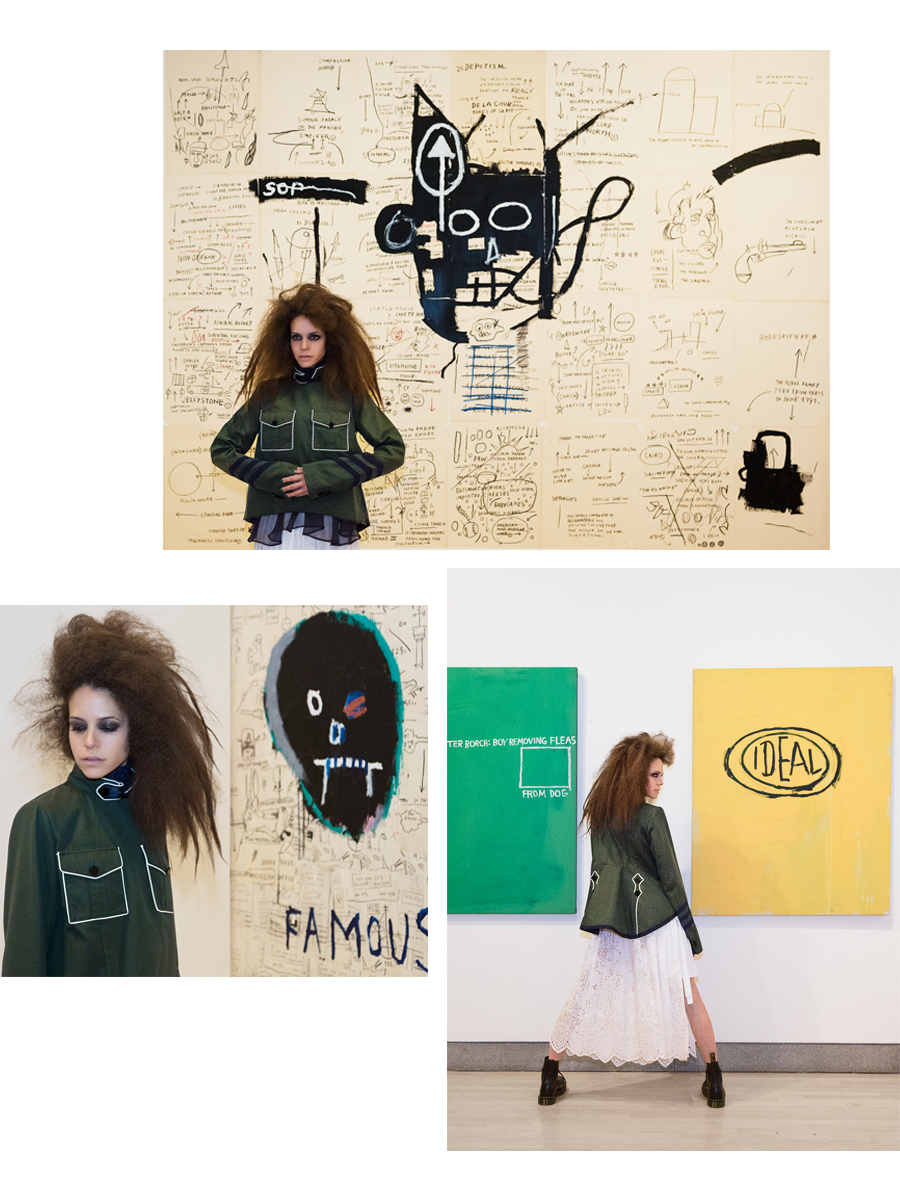 Basquiat's public persona is a legendary part of eighties pop culture and art world fame. He parodied racial stereotypes and aimed to expose racist attitudes through his art, appearance and pithy graffiti phrases. There is little doubt that Basquiat was acutely aware of his public image and conscious of the effect created by his work, words and actions, but the general public, until recently, only had access to his public side, the artfully constructed exterior. We understand Basquiat through his publically exhibited work, interviews and performances.

Brooklyn Museum's new exhibition Basquiat: The Unknown Notebooks offers us an unprecedented look inside Basquiat's private creative process, in which the viewer can look at 160 individually framed pages of the artist's notebooks dating between 1980 and 1987. When an artist cultivates a public profile the way Basquiat did, having an opportunity to glimpse behind the curtains is especially intriguing. It's a rare opportunity to gain insight into how the artist developed his ideas and evolved creatively.

This well curated exhibition highlights the very cohesive relationship between the private notebooks and the fully realized works. Basquiat's creative ability was multi-faceted, ranging from culturally diagnostic graffiti, experimental new wave music, performance and verite cinema, collage, drawing, neo-expressionist painting and writing. The exhibition underlines the fact that regardless of Basquiat's creative format, language and text played a key role in his process and work. Text functioned both as intellectual substance and as a formal visual device.

The notebooks reveal the multiple ways text played out in Basquiat's thought process. His handwriting, usually upper case, was controlled and beautifully crafted, with a poetic and graphic spatial sense. He played with words and thoughts like volatile constructions that could be built up, welded together, emphasized, repeated, negated and dismantled all within an orderly page. As we look we can see ideas being worked out, observations being recorded, and certain narratives being distilled and refined. Everything was written from the perspective of an omniscient narrator and written in fragments, like lyrics, poetry or a written version of scatting. And what we consistently see is his uncanny ability to convey the essence of something.

An essence that commanded a pairing of strength and ingenuity, a match I found in the free-spirited innovation of the Japanese brand Sacai. Multi-layered and thought provoking, like Basquiat, Sacai is destined to become an icon. The brand is everything at this moment and so is this look. Laden with surprises and brilliant juxtapositions, from underneath this officer's coat falls a moment of delicate chiffon, paired with the flirty elegance of a laser cut wrap skirt. One part structured street, two parts feminine complexity and altogether fresh, this look is a mash up of polar influences. A signature that is veritably Sacai, as with Basquiat it feels exciting, vigorous and full of indelible surprises.

Channeling on this energy is an event that I am thrilled to be a part of. In honor of the upcoming Brooklyn Artists Ball at the Brooklyn Museum in which I am a dance party host, the evening promises to be magical in its fully immersive experiences of music, performance and visuals. For those of you who can, I would love for you to join me on April 15th in celebrating and supporting the museum and surrounding community that has given us so much. Also, a special thank you to Larry Warsh, who acquired Basquiat's notebooks in the late 1980's and has graciously loaned them to the Brooklyn Museum on the occasion of this exhibition. It was truly a thrill to experience Basquiat's works and engage with his essence in this rare and intimate context.
Sacai military jacket, Sacai wrap skirt, Dr. Martens 1460 boot, Jin Soon Nail Polish in Tila
Brooklyn Museum, Basquiat: The Unknown Notebooks
Hair by Cosma De Marinis, Makeup by Samantha Dametta, Photographs by Tylor Hou
Brooklyn Artists Ball, April 15th, Tickets Here