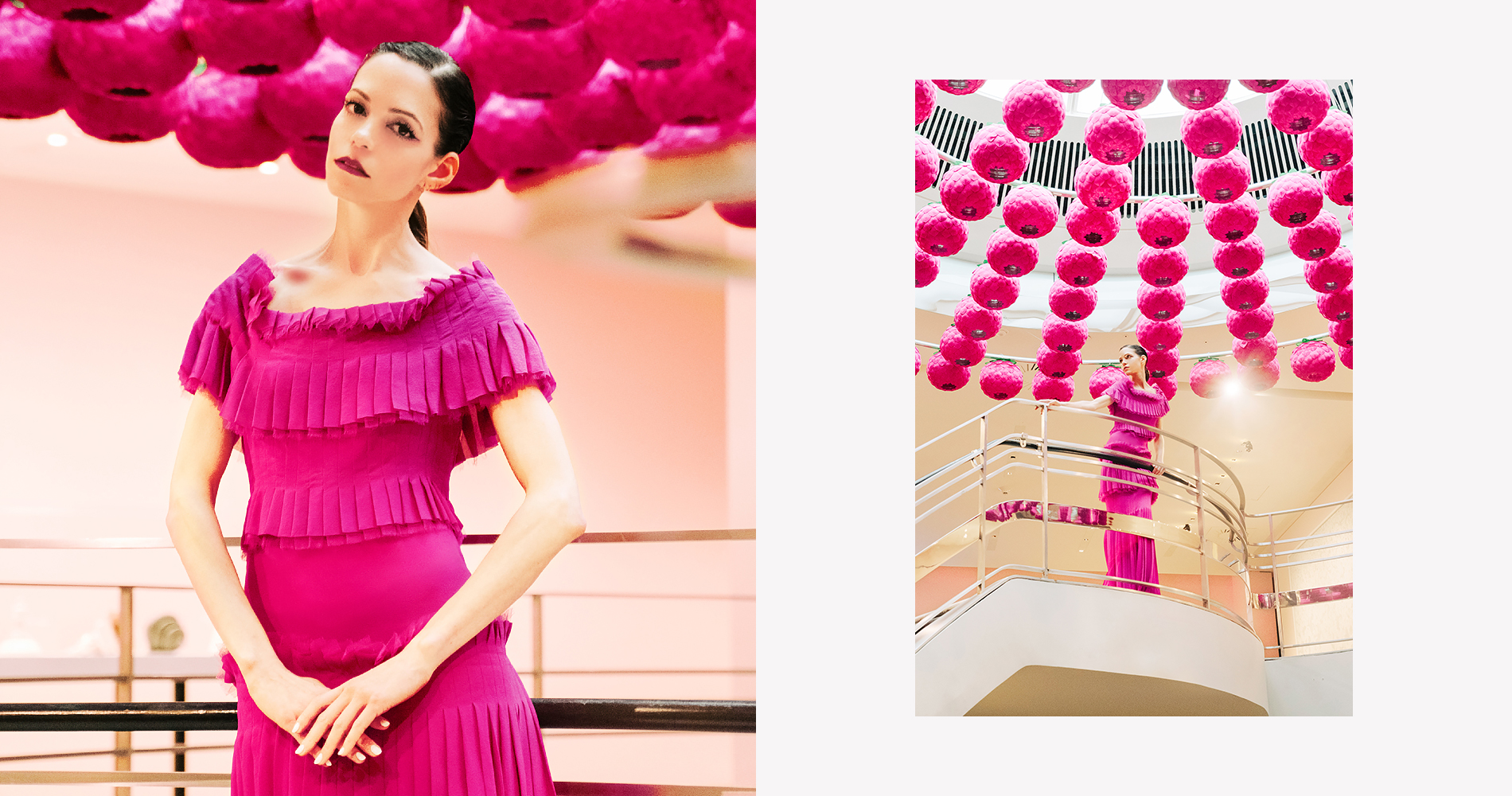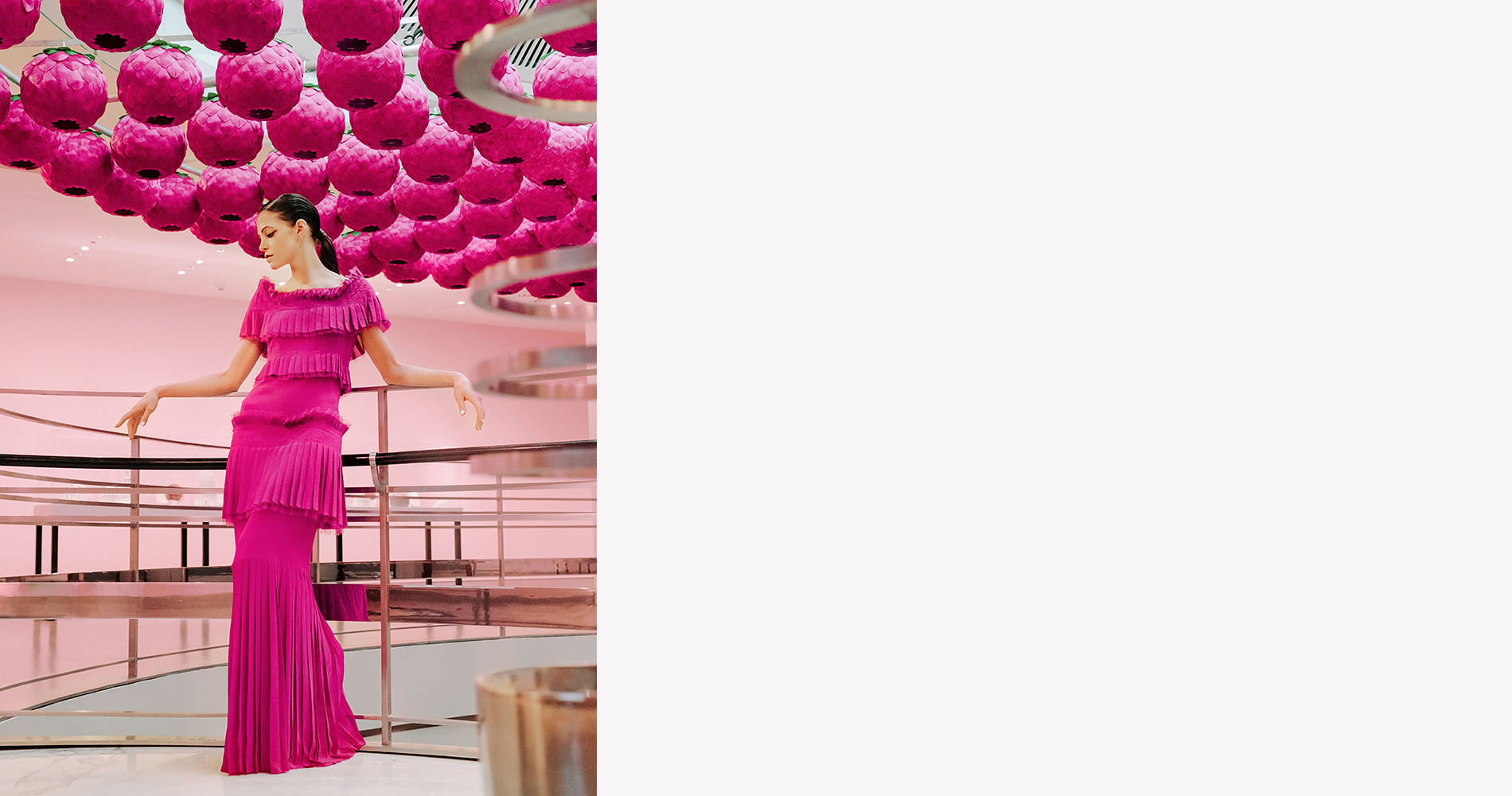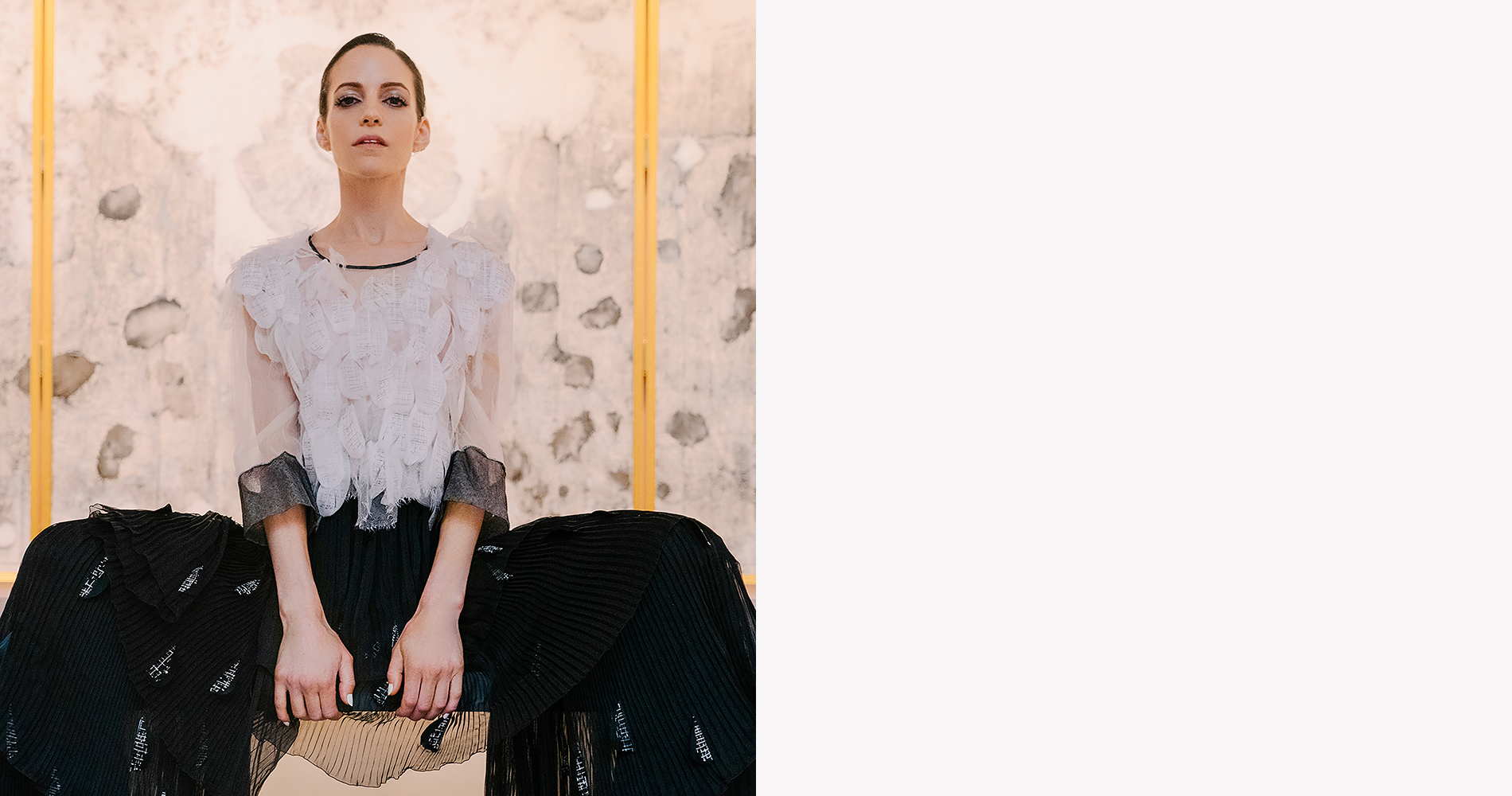 Nadia Kaabi-Linke, The Altarpiece, 2015;
Chanel Haute Couture Fall 2019 Collection blouse and pleated pant with plumes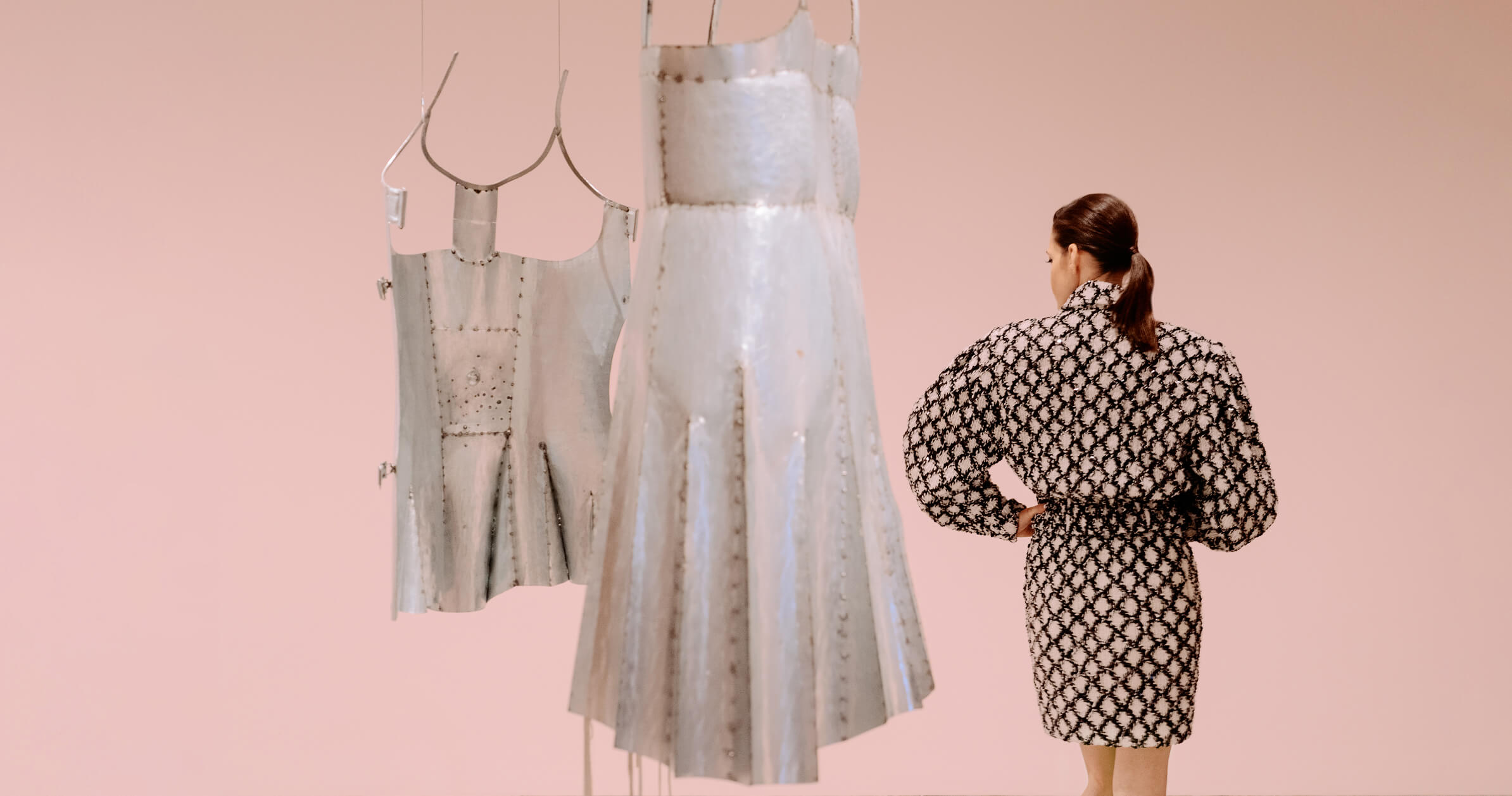 Naiza Khan, The Robe, 2008 with Armour Lingerie V, 2007;
Chanel Haute Couture Fall 2019 Collection tweed suit jacket and skirt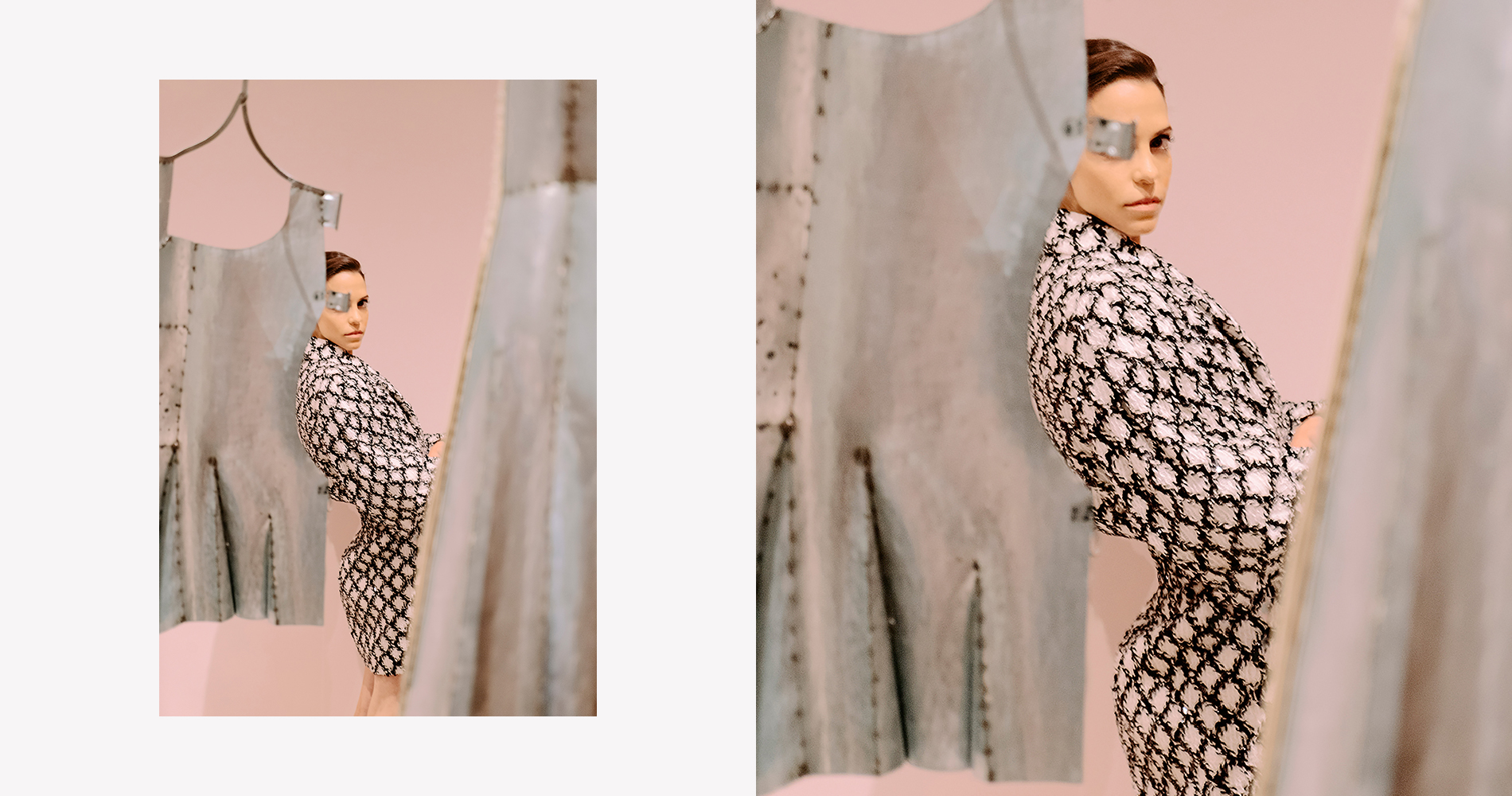 Gather your stones and call them crystals, spin your feathers into gold. Flocked, welded, pleated, adorned, power comes dressed in many forms, conveyed here and perhaps most potently, personal power is an art and an act of graphic poetry. Clapping with Stones is a soft current through which energy is transferred and flows between artists and mediums, an archipelago connected to the greater whole and a crown jewel now on view as part of a year long series of exhibitions on Power at the Rubin Museum. Curator Sara Raza has wielded her own gift of non-bias woven with a depth of knowledge and cultural awareness unlike any other I have previously encountered and let it unfold on the grounds of a museum whose source power is the rich humanism at the center of the Himalayan cultural sphere on which it was founded.
A call to contemplation of self burns from Kimsooja's site-specific immersive work Lotus: Zone of Zero composed of 272 hot magenta lanterns suspended between the circular skylight above and the central spiral stair below form a monumental core through which to enter the exhibition, symbolically reborn. Harmony exists as a Chanel Haute Couture dress blossoms from an all-knowing universe and drops lit from within, an exquisite specimen from Virginie Viard's first Haute Couture Collection. Essential stories, personal histories, written poems imprinted on Nadia Kaabi-Linke's The Altarpiece. Delicate layers, embedded narratives gold leafed and feathered stare wishfully.
The intertwine of art, life and origin is present, non-conformist artistic gestures hold a collective power and prowess for enlightenment. If there ever was any modern armour designed to maximize personal power and integrate the shadow's sacred creative it is Gabrielle Chanel's revolutionary signature, the Chanel Jacket. Culture is about freedom and in the 1950s Chanel saw womenswear as too constrained thus she liberated the women of her time by dressing them in suits that made them feel at ease. This freedom to move was achieved through her use of material. Chanel subverted the sartorial codes of her era by appropriating tweed a traditionally masculine fabric to construct her iconic tweed jacket, supple without sacrificing shape and with no restriction on movement. Exploring a converse material to garment type relationship artist Naiza Khan's sculptures, lingerie rendered in galvanized steel, seek to relocate the heroic female in time and space. The lotus-eyed beauty of one power from within is the embodiment of strength and identity that connects us to the universal, it can and has been done and must continue to evolve.
Just as dressing I have found beauty as a way to express and discover my various selves on the radical love quest to integrating and arriving at the electric center of my being. This season Lucia Pica for the Fall 2019 Chanel Makeup Collection slices through any limiting preconceptions associated with Noir et Blanc revealing the opposing shades as they are to infinite nuance. The allure is in experimentation, to pair with Kimsooja's dramatic entry the lip is stamped in Le Rouge Duo Ultra Tenue in the perfectly descriptive shade of Intense Rosewood. A hint of Rouge Allure Liquid Powder in Invincible and Bois De Nuit is added to accentuate the line underneath the corner of the eye and pulled straight outward, Rouge Coco Gloss in Crystal Clear coats the brow bone with multi-dimensional shine. Melting into The Altarpiece by Nadia Kaabi-Linke a layered effect was created on the lid using Les 4 Ombres Eyeshadow in Noir Sûpreme as a base then building a delicate patina using Ombre Première Top Coat in Penombre and Le Gel Pailleté as a transparent shimmering veil/glazed varnish. Rouge Allure Liquid Powder in Timeless topped with Rouge Coco Flash in Lumière adds a soft pronounce to the lip. With Naiza Khan's Heavenly Ornaments the skin is fresh and illuminated using the Voyage De Chanel palette of blush and powders. Rouge Allure Liquid Powder in Évocation mixed with Bois De Nuit leaves the lip rosy and sculpted. All looks the eye is smoldered with Le Volume Ultra-Noir de Chanel Noir Intense mascara, a black pigment so rich it creates a khôl liner effect reminiscent of that used in Ancient Egypt.
Chanel Haute Couture Fall 2019 Collection;
Clapping with Stones: Art and Acts of Resistance is organized by guest curator Sara Raza, independent curator and writer. The exhibition is produced by the Rubin Museum of Art.
Kimsooja (b. 1957, Daegu, South Korea; lives and works in New York and Seoul); Lotus: Zone of Zero; 2019; Site-specific installation of 272 lotus lanterns, Tibetan, Gregorian, and Islamic chants; Courtesy of Kimsooja Studio
Nadia Kaabi Linke (b. 1978, Tunis, Tunisia; lives and works in Berlin and Kiev); The Altarpiece; 2015; Transfer print with ink, wax, and acrylic on paper on canvas, and a wooden frame coated in 24k gold leaf; 98 7/16 × 177 5/16 × 2 1/2 in. (250 × 450.4 × 6.3 cm); Courtesy of Burger Collection, Hong Kong
Naiza Khan (b. 1968, Bahawalpur, Pakistan; lives and works in London and Karachi); The Robe; 2008; galvanized steel and leather; 39¼ x 21¾ x 15 in. (100 x 55 x 38 cm); Courtesy of Karen Stone Talwar
Naiza Khan (b. 1968, Bahawalpur, Pakistan; lives and works in London and Karachi); Armour Lingerie V; 2007; galvanized steel; 32 5/16 × 15 3/4 × 9 7/16 in. (82 × 40 × 24 cm); Courtesy of Mathur Family Collection
Makeup by Tomomi Sano using Chanel Makeup Collection, Hair by Ledora Francis, Photographs by Logan Jackson