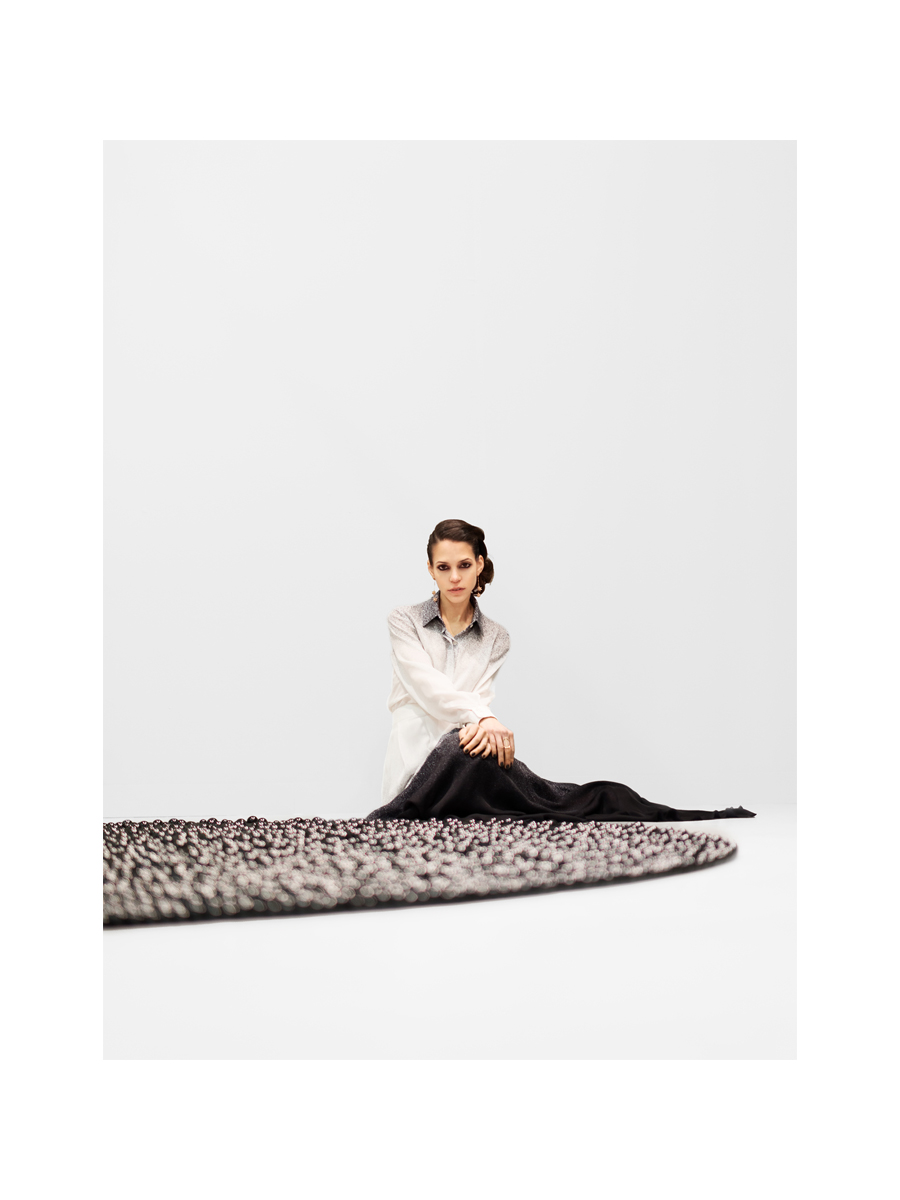 For the last 6 years the Armory has curated a section focused on artists from, or with roots in, one part of the world. This year the focus is the Middle East, North Africa and the Mediterranean (MENAM). Many cultural spaces exist within this large geographic region, containing a multitude of languages, dialects, religions and rich histories; it is also a region where political borders have been drawn and redrawn many times. Being of Iranian descent, I took a special interest in exploring the depth and complexity of art from this region as well as creating my own focus for the curation of designers both established and emerging with roots in MENAM. For part one of this series I had the pleasure of interviewing the curator, Omar Kholeif of London's Whitechapel Gallery. The intense aesthetic experience of Mona Hatoum's Turbulence (black) at Alexander and Bonin inspired the first pairing with Elie Saab's lavish ombre. Hatoum's piece, composed of thousands of black glass marbles, renders an experience that is familiar yet alien, a questioning of one's self in relation to the whole, a call to disrupt the ordinary.

PD: Armory Focus aims to create a much needed platform for artists from MENAM in order to explore the depth, complexity and diversity of art from the region. But when it's not possible to represent the full spectrum of what MENAM is, or to represent the vast number of important and influential artists from across the region, what becomes the criterion for selection? What is your conceptual framing for this exhibition?

OK: Any project about geography or territory is hardly ever definitive, which is why I believe curators are important to think about how a story is woven through a particular context and enable different meanings to emerge. With every survey, I try to think of particular artistic figures who emblematize particular periods, key artistic movements and techniques and consider how those approaches dialogue with one another. It is this constellation of approaches that I think can define art from a particular place.

PD: In the past the geographic region of the Armory Focus has ranged from very small or specific, such as Focus: Berlin 2010, or Focus: America 2012, to very large and complex such as Focus: Latin America 2011 (20 countries). Ultimately, when looking at a geographic region as large as the Middle East, North Africa and the Mediterranean, which is comprised of well over 25 countries, is it possible to achieve a real focus, or do certain regions become marginalized because of the wide lens?

OK: The intent here is not to think of margins or peripheries but to consider how one can think of a snapshot of a broad region and the complexity's that are inherent within such a space, through presenting a multiplicity of works by different artists from different time periods.

PD: Would you say there are significant differences between American and European approaches/attitudes towards curating a show from the MENAM region?

OK: I do not believe in making sweeping generalizations. I believe that each individual brings their own subjectivity to the context of a particular region or movement. Ultimately it depends on the approach of the curator and how thoroughly she or he is in a subject, how they develop their research and their curatorial presentation.

PD: You co-curated the 2012 Liverpool Biennial, and are curating the Cyprus Pavilion for the upcoming Venice Biennale. Can you elaborate on how the experience of curating something like Armory Focus, which exists within a commercial venue, is different than curating a biennial?

OK: It's very similar in many respects in that I always start with artists and their work and then open up to broader context and think about how those works dialogue with each other. I am not involved in the commercial aspects of a fair in any way so it's not something that weighs on me. However, what is different I suppose is that because the FOCUS is in the context of a wider fair and as such, I have attempted to make sure that the narratives within the individual booths and projects also stand independently as well as work together in a grouping seen together.

PD: In the last decade cultural boycotts have become increasingly prevalent in the art world as a way of protesting human rights violations. As a curator, at times, you are confronted with decisions about when or if an exhibition calls for cultural boycott or if you should attempt to maintain a neutral frame. When curating an exhibition that deals with a vast geo-political region like MENAM, is the idea of neutrality relevant or important, or is this not a productive place?

OK: The whole world experiences conflict to varying degrees and it is neither the purpose nor the intention of Focus MENAM to comment on the particular nature of social or political issues coming from those regions. In fact, Focus MENAM aims to depolarize the topic of the Middle East and to consider the artists and their artwork here at The Armory Show as individual creations born from a variety of influences and variables and not purely hinging on national ties.

PD: In North America the work of male artists is privileged over that of female artists in museums, nonprofit spaces and commercial galleries according to recent studies and statistics. In the Armory Focus: MENAM exhibition almost half the artists are women. Does this in any way reflect gender representations in curatorial practice in the MENAM region, or is the Armory selection unusual?

OK: I think this is representative of the MENAM and actually quite interesting to consider that there is equality across the region between genders in terms of the critical high fine arts.

PD: The internet was hugely instrumental in the Arab Spring, allowing youth, activists and artists to exchange ideas, voice their opinions and navigate around the tightly controlled public spheres and pervasive censorship found in certain countries. Considering this legacy would you say the internet and social media holds a particularly important place within contemporary art in the MENAM region and its diaspora?

OK: I think technologies are important in every society, the world over and I wouldn't want to make an isolated statement commenting purely on the MENAM.

PD: Lawrence Abu Hamdan has been selected as the commissioned artist for the Armory. Can you talk a bit about the importance of his work and the significance of it being shown in this context?

OK: Lawrence is one of the most urgent artistic voices working today. His practice unfolds crucial questions about our reliance on technology and its continual exploitation by sources of power, blurring the personal and the political with wry humor. His work addresses the politics of listening and seeks to question how governments and institutions use technology to present versions of the truth. The Freedom of Speech Itself (2012) and Conflicted Phenomes (2013) are two bodies of work that seek to visualize how accent tests have been used by state regimes and governments to define different individual's asylum or refugee status. Abu Hamdan visually presents this research as inspired through graphics, sculpture, and audio documentaries. In these visual explorations, he questions how subtle nuances can completely set off these state controlled technologies in the wrong direction, hence questioning the entire structure by which states and regimes instill faith in the power of technology. It's an incredibly powerful and incisive critique of contemporary life. His new project for The Armory Show, seeks to explore how surveillance is something embedded in everyday objects. Lawrence will also be presenting the Freedom of Speech Itself in the booth of Galeri Non.
Elie Saab top , Elie Saab skirt, Noor Fares earrings, Noor Fares ring
Alexander and Bonin, Mona Hatoum, Turbulence (black) 2014
Hair by Cosma De Marinis, Makeup by Samantha Dametta, Photograph by Jason Gringler