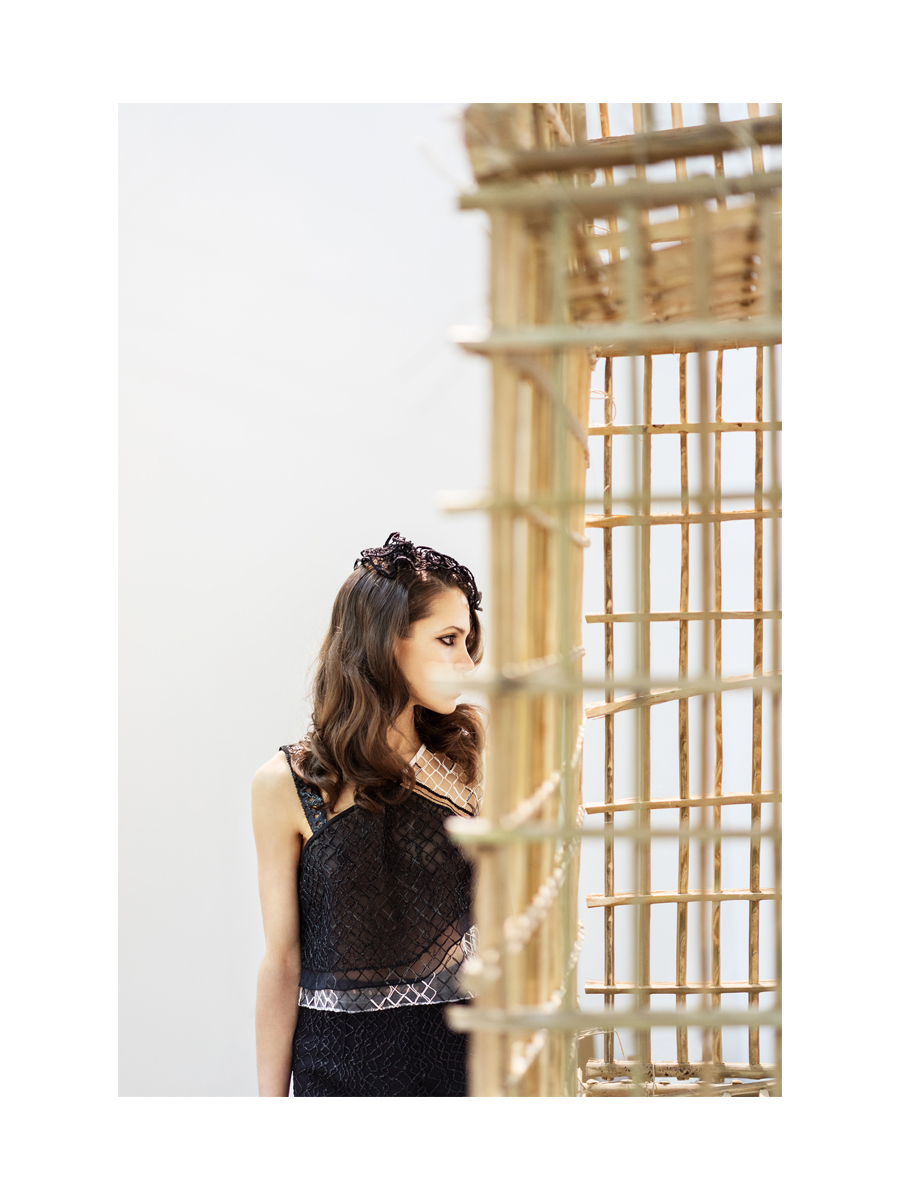 The German-Egyptian artist Susan Hefuna transcends boundaries in medium and cultural identity. The strength and delicacy of her grid drawings and palmwood sculptures at Pi Artworks in this year's Armory Focus: MENAM immediately captivated me. Her fascination with the systems that shape human interaction is at the heart of her multi-layered practice lending to work that is open and expressive. I wove in a look from the designer, Jonathan Simkhai, for whom the use of mesh is signature, and had the privilege to gain insight to Hefuna's intuitive practice and unique world view through the following conversation.

PD: What were the formative experiences that led you to becoming an artist? Was there a specific moment in time when you realized you wanted to explore your ideas through art making?

SH: It was all very natural. I started drawing as a child, and that was when I began to express myself in ways other than words and in a language of my own. I was looking for ways to express things more specifically than with words, because I was always shifting between cultures as a child, words meant different things depending on the cultural/social context I was in. This non-verbal expression became my way to interacting with the world. I did not choose to become an artist as a profession. It was and is my way to live. I began my formal arts education in 1979, at which point I became inspired artists such as  Eva Hesse, Louise Bourgeois, James Lee Byars, Méret Oppenheim, Kandinsky, Rebecca Horn, Paul Klee, Joseph Cornell, Art Brut, Agnes Martin, Mark Rothko, Leonardo da Vinci, Caravaggio, and the Zero Movement, The Bauhaus, Joseph Beuys and the idea of the Gesamtkunstwerk. These are just a few influences I have had over the years as a young artist. The source of my inspiration is depending on what I am interested at a certain point in my life. Architecture, Sciences, Biology and the human body, death, all structures of life are also an infinitive source for my research.

PD: How does the experience of being fully immersed in different cultures affect the way you think and how do these cultural experiences manifest themselves in your work?

SH: I divide my time between, Germany, the United States and Egypt, but also travel all over the globe for exhibitions and research. My work is certainly inspired by different cultures. I am lucky to be able to observe cultures from a distance, it makes me aware of structures on several levels. Structures are the frameworks of my work. It can be in my drawings or for example in works such as the project Mapping Wien where I made interventions at twenty-seven locations in one year in the city Vienne, including in the streets, at the Freud Museum and at a Viennese Opernball.

PD: The late art critic and writer Robert Hughes once said, "Drawing never dies, it holds on by the skin of its teeth, because the hunger it satisfies – the desire for an active, investigative, manually vivid relation with the things we see and yearn to know about – is apparently immortal." Drawing is a very important part of your practice. Can you talk about how your investigation of drawing has evolved over the course of your career?

SH: As I mentioned before, I started to draw as a child. It was a way to survive and to communicate with the world. Creating my own global language beyond words. In a drawing you cannot conceal anything. It is impossible to lie in a drawing. The drawing shows everything. A drawing has no nationality, there is not time and space. It is its own universe. I always say: look at the drawings by an artist and you know everything about the artist. All I can say is that I have to draw. I've always drawn and will continue to make drawings. My drawings sustain me.

Since 1991 I have regularly composed ink works on several layers of tracing paper, inspired by the architecture and people of the urban landscape I am working in at that point in time.

For these works I need time to prepare before I actually begin drawing. The active time of "not doing" is as important as the activity of actually "doing" the drawing. My method is to start with one dot and from there connect more dots and lines. When I start, I do not have an image in my mind, and I do not make a sketch beforehand. The drawing unfolds in front of me. I don't correct or redo it. This method needs a high level of concentration.  A very exciting project was NOTATIONOTATIONS which was performed at the drawing center NYC in September 2013. The Drawing Center's Director, Brett Littman, invited the choreographer Luca Veggetti and myself to produce a project that was between drawing and dance.

PD: Many of the abstract forms in your work are inspired by networks and structures found in the public sphere in Egypt. These forms are often altered and beautifully abstracted, creating delicate visual webs. Interestingly, your work has received a different reception depending on where you've shown it. What has your experience been like exhibiting your work in different cultures? Can abstract forms transcend cultural narrative?

SH: I was always attracted to the abstract form of structures – that of molecules, DNA or modules – those details in science that illuminate us about the bigger structure of life and I discovered similarities to architectural shapes I observed in Cairo.

In 1992 I had my first solo exhibition in Egypt. This was a key experience for me. It was when I became aware of how different the reaction to the same work could be when shown in different contexts. From then on, my works are enriched by dual feedback. I include different layers of meanings, cultural codes more and more into my work. It has become part of my work to play with different cultural codes. There is no innocent view. Viewers see what they know.

PD: Ghostly photographs of the mashrabiyas screens, as well as drawings and sculptures inspired by the screens are a common theme in your work. The graphic patterns and organic geometry of this work engage the viewer while also creating a visual barrier. The screen both reveals and conceals what lies behind it, and so the viewer is prompted to both look at it and through it. By creating different frameworks for the viewer to look at and through do you intend for the viewer to become conscious of the act of looking and more aware of the lens she sees the world through?

SH: There is the element of layers in many of my works, even if I use different medias.

The photographs you refer to were made with a pinhole camera on Cairo's streets between 1999 and 2001. I actually developed the films in the streets, meaning they got contaminated with the dirt and dust of the streets, they became like windows with different layers. The viewer has to look very carefully at the images to discover that they show contemporary life, and not the past. I played with the black-and-white aesthetic, with time, with clichés, and with different cultural readings of the photographic images in order to deconstruct them.

Similarly, I also work with layers in my drawings, using tracing paper.

In the wooden screens, words are interwoven into the structure, Language and Architectural structure functions as a filter between the inside and the outside space. Between the observer and the observed.

PD: Your standing screens, which often incorporate text, allude to the idea of Art as dialogue. The screens, which can be viewed from two sides embed text from different languages; Arabic, English and German. Depending on the viewer, the language or the significance of the phrases embedded in the screen may not be familiar. By employing text from different languages you emphasize the dual relationship that exists in language between inclusion and exclusion. We all possess an instinct to process information and to assign meaning to what we see, but sometimes we are not capable of understanding what is in front of us due to a difference in educational, cultural or language background. Can you talk about this idea in your work?

SH: You can see my works as "Meditation screens". From a distance, you can read words and phrases, sometimes the words act like patterns, if the viewer cannot understand the language. As closer the viewer gets to the screen, the words disappear and the pattern becomes an abstract image.

Often I use phrases that I try to truly understand myself, such as "silence forever", "patience is beautiful".

The viewer plays an active role in observing the screens. There is not "the one meaning" of the work, as there is not "one truth" there are always multiple possibilities of meanings and of observing. I am not interested in labeling or judging things, instead I am interested in the possibility of multiple layers of meanings existing within a work at the same time.

I think if the viewer starts to forget clichés and tries to observe the present moment, she/he can definitely become more aware and conscious.
Jonathan Simkhai Fall 2015 collection top & skirt
Pi Artworks, Susan Hefuna, Untitled 2014
Hair by Cosma De Marinis, Makeup by Samantha Dametta, Photograph by Jason Gringler