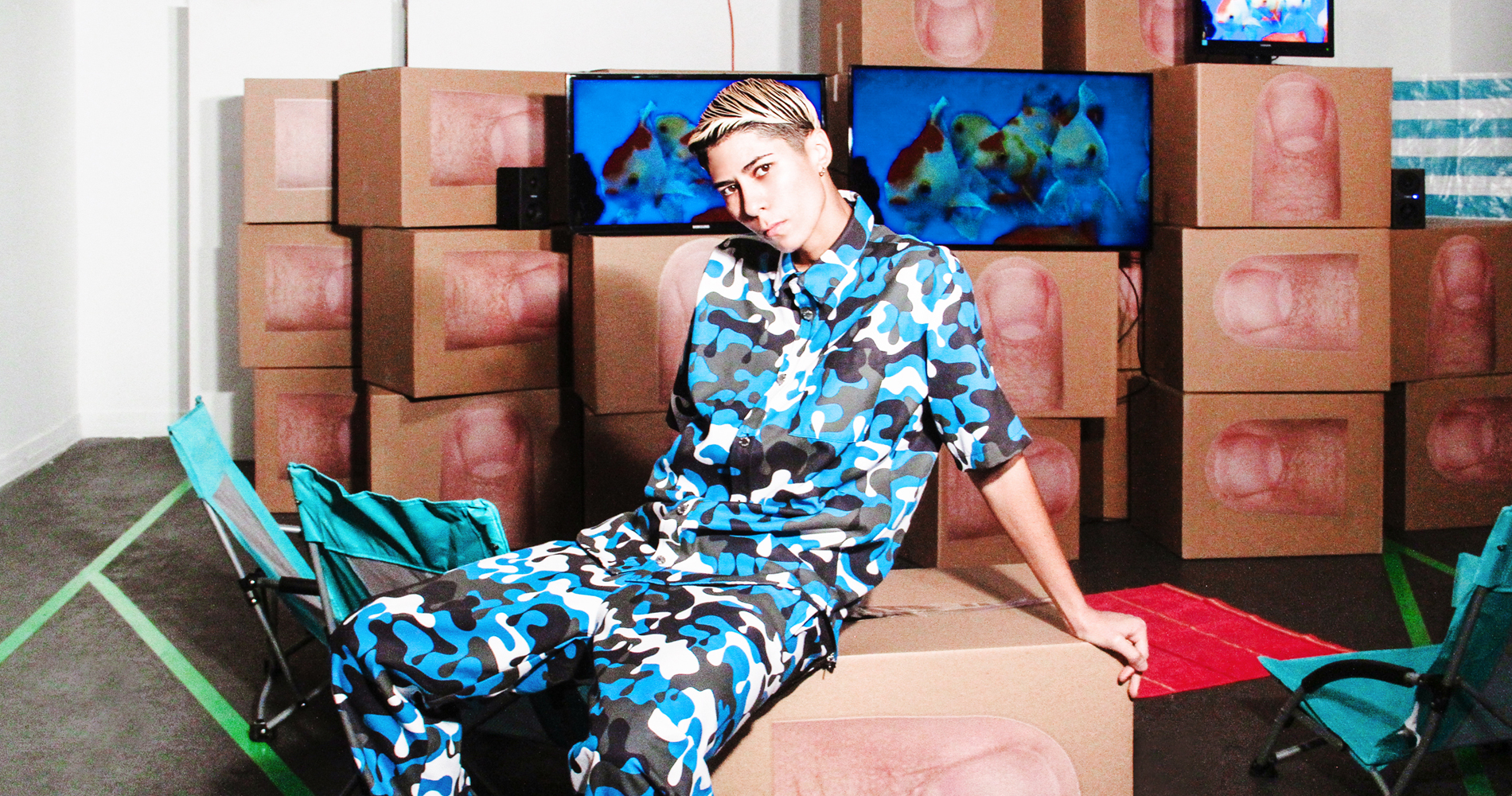 +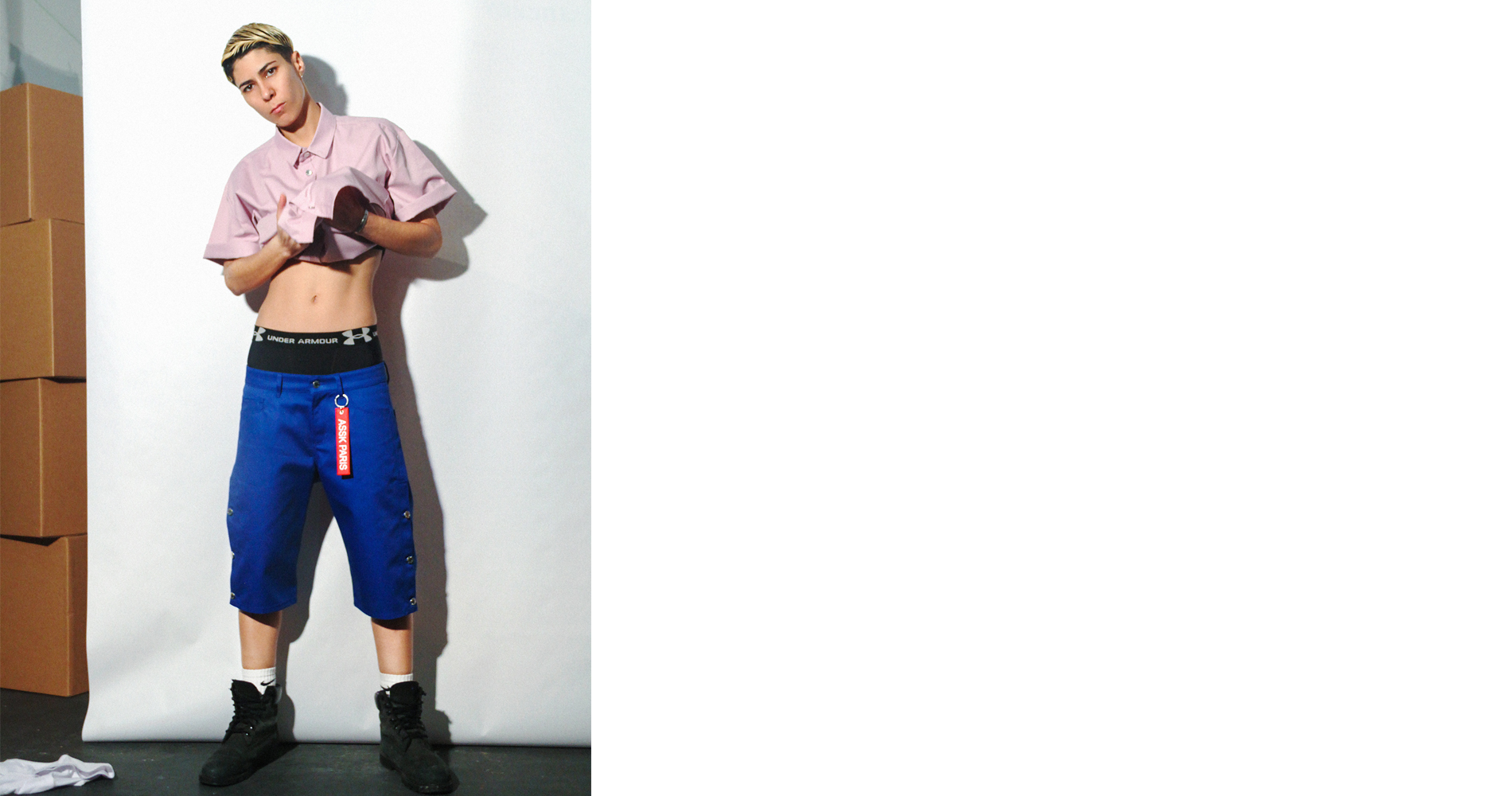 At the age of seven Natasha Roozrokh picked up her first guitar; by 11 s/he had recorded her first DYI album on a tape cassette. Now, 12 years later, this multi-talented Iranian-American goes by the stage name NAR, and is something of an art world sensation creating an effortless aesthetic blend of art, fashion, music and culture. NAR approaches music from a multiplicity of angles. S/he is primarily a musician who writes and performs a magical blend of East-meets-West rhythmic melodies, but s/he is also a producer who has worked with the likes of Brooke Candy and Mykki Blanco, and a DJ who recently played at the Performa Biennial in NYC. NAR's impressive resume also includes a long list of bands s/he's toured with internationally such as Pink Enemy, All Neon Like, Jazz Thieves and Vomit Bomb.
This fall NAR was in New York to walk for IKUMI SS16 during NY fashion week, and to open for Pauline Curnier Jardin at the Performa Biennial. I jumped on the chance to shoot NAR amidst Heather Phillipson's installation of curious collisions. Just ambiguous enough to push into a completely individual space, NAR is in ASSK, the all-inclusive brand influenced by offbeat movements/modern day tribes. A sea of Heather Phillipson in an ASSK forest, count on Performa/Job Piston to bring it all together. After the shoot we sat down to chat about music, performance and growing up in an Iranian-American home in the suburbs of L.A.…
Pari Dust: How old were you when you started playing and touring with bands? How did that first come about?
NAR: During high school is when I started playing in bands and shows around LA. Once I finished school I started going to venues like The Smell, where I started meeting kids and starting new bands. We would do small west coast tours until I got to my 20's and started doing real US & European tours and through the contacts I made over the years I started booking my own tours.
Would you say live performance comes naturally to you?
Yeah when I was seven I got my first guitar and would watch music videos day to night. That's how I learned how to play guitar. I would study musicians and mimic what they did in the mirror. Once I started performing live it felt natural because I would practice my onstage persona almost everyday.
You've toured with so many bands including your own, playing many international cities such as Istanbul, Madrid, and London. You've also DJ'd at Art Biennials; the Istanbul Biennial and the Performa Biennial in NYC. Does the location or the context of a performance change the experience of being on stage? 
It's always exciting to play in new cities but for me it doesn't matter where I am, I feed off the energy of the crowd. Some cities are more enthusiastic than others so I give a better performance. At the Istanbul Biennial, the audience was giving me so much life that I had given the best performance of my career but I believe it was because the people were so engaged, not because it was a biennial.
It's kind of amazing that you started producing music (ie Brooke Candy) when you were so young. How did you get interested in the production side of things?
After playing in other people's bands for years, I started my own band and would write all the parts. Teaching them to other musicians and being a perfectionist was a huge conflict. I wished I could've cloned myself to play all the instruments live. So I got into recording my songs. I started on Garageband then eventually my friend introduced me to Ableton. I wasn't happy with the sound quality of my tracks so I started getting into producing with sample packs and plug-ins. Now it's what I do, I love to produce music and collaborate with other artists. I continue to learn new things everyday and it always contributes to my personal growth and potential as an artist.
Like you, my heritage is Iranian-American, while there are so many beautiful things that for me came from growing up surrounded with those Iranian cultural influences, an intrinsic appreciation for the arts where I was encouraged to explore my creativity. There was also a set of expectations that weren't necessarily forced upon me but maybe that I chained myself to for a long time because I felt a sense of extreme accountability, also a lot of shame surrounding sexuality.  I'm wondering what your experience was like growing up within two distinct cultures, and if it was difficult coming out to your family.
Growing up in a predominately white suburban neighborhood I wished I was white when I was young. I lacked appreciation for Iranian culture because i was born into it and didn't understand the value of the rich, historic culture. I was always the black sheep in my family and had my own set of beliefs separate from what my family wanted for me. As I got older I started to appreciate my culture and was proud of my background but my sexuality was something I was ashamed of at first. The more I started to realize who I was the easier it was for me to accept the truth about myself. Once I started having partners, the truth was slowly exposed to my family. Basically I never came out, just got caught lol. Now they accept me for who I am and continue to support me. I'm blessed.
With your burqa project you explored your Iranian heritage through music and fashion. Was there a specific experience or event in your life that inspired this project?
When I went to Iran for the first time my cousin and I were arrested because our clothing attire was 'inappropriate'. We were held in an extremely hot police van for hours while we witnessed innocent, young girls being verbally assaulted by moral police women instilling Islam and fear into them. We were then taken to the police station where hundreds of girls were being held. I tried sneaking photos through my hijab but I got caught and was held by police men, threatening to keep me overnight in prison. My cousin defended me as my farsi wasn't that good at the time and eventually they let us go. Our parents had to come with new appropriate clothing and I never changed my public attire for the rest of my time there. It was one of the most terrifying experiences of my life. The lyrics to 'chebalah' is about that experience.
You have a long history of collaborating with other musicians. Who would you like to collaborate with in the future?
Justin Bieber
NAR in ASSK SS16 Collection
Heather Phillipson, Final Days, Performa 15 Biennial
Photographs by Job Piston